Ecommerce business is one of the best ways to make a living in today's digital age. Every day, more people are being attracted to the prospect of being their own bosses and being able to run their businesses by themselves. Having an eCommerce business allows you to do this just perfectly.
The eCommerce business space is one of the biggest right now. There are estimated to be at least 12 million eCommerce sites in the world. And according to statistics, things will get even bigger. In fact, estimates show that about 95 percent of all purchases will be through eCommerce platforms by 2040.
So, if you're looking to get started as an entrepreneur and grow your reach, having an eCommerce business could be a great way for you to begin.
At the same time, a lot of people are wondering how to run a successful eCommerce store, and where to start. In this post, we'll share all of the tips you need to set up your eCommerce business and start selling online:
Research, Research, Research
As it is in any online business, it is important for you to begin your foray into the e-commerce business industry with the right type of data to back up what you plan to do. As explained earlier, there are over 24 million eCommerce websites already on the internet, all looking to sell one thing or the other – or perhaps even a combination of items.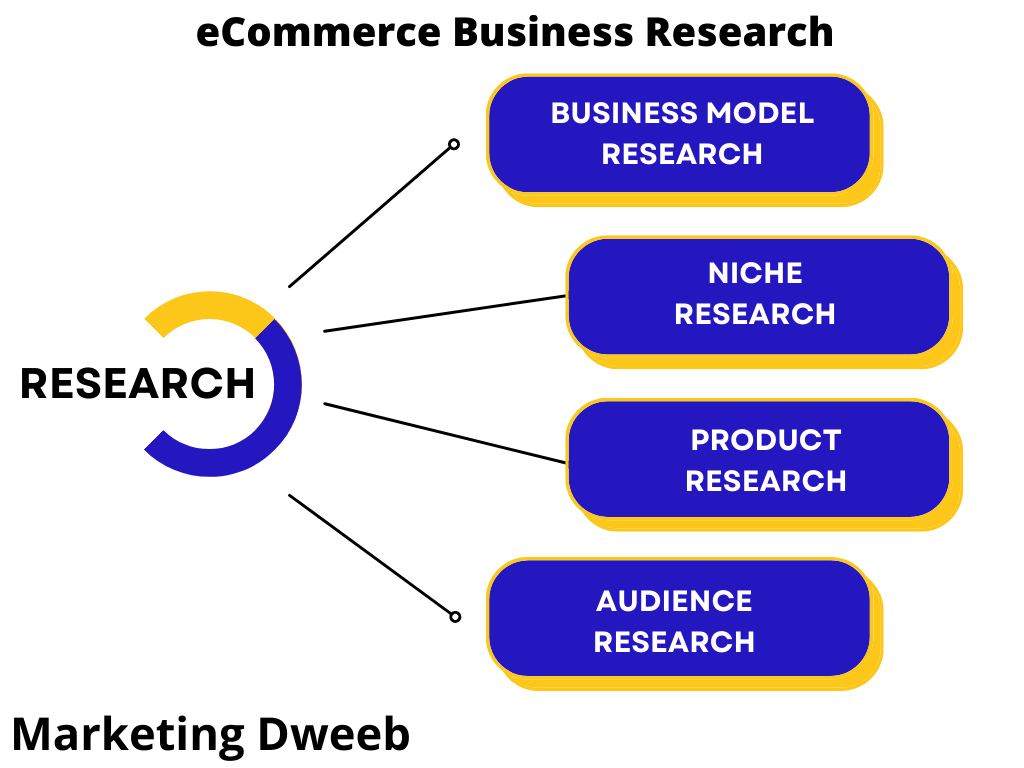 If you're looking to kickstart your eCommerce business, it is important for you to find something that makes you unique and allows you to capture a niche for yourself to sell online, This is what research helps you with. It helps you make an informed decision about the kind of product to sell online, marketing strategies to sell the products, target audience to sell for, the upfront costs to be incurred, business licenses that may be required to operate, and a lot more.
Here are the specific types of research you will need to do as you learn how to do eCommerce:
Usually, the first type of research you will need to do is business model research. This form of research essentially examines the different components that make up your eCommerce business. Remember that even though it is online, your proposed online store is a business – it's an investment, and you should treat it like one.
Right now, there's no one-size-fits-all approach to business model research. The same research you'll use if you plan to sell physical products might not be the same as a friend who wants to sell services.
The business model research essentially covers how your eCommerce business will work. Some of the things you'll look into include:
What model will I use for deliveries?
Do I engage in dropshipping or should I simply ship on demand?
How do I store products?
Will my eCommerce business have a subscription model? If it does, what subscription tiers will be available and what will the perks of each tier be?
How do I engage affiliate marketing and how should it impact the business?
These are just some of the questions you'll need to ask. All in all, you need to take the entire overview of your eCommerce business into consideration and examine how it will work.
A helpful tip will be to look at business model research from two angles – the customer's, and your finance chief's. Essentially, work to ensure that your customers get the most value for their money and can leave satisfied. At the same time, try to build an online business model that allows you to save money on several critical components. By finding a balance between cost efficiency and customer satisfaction, you can build the perfect eCommerce business model and proceed.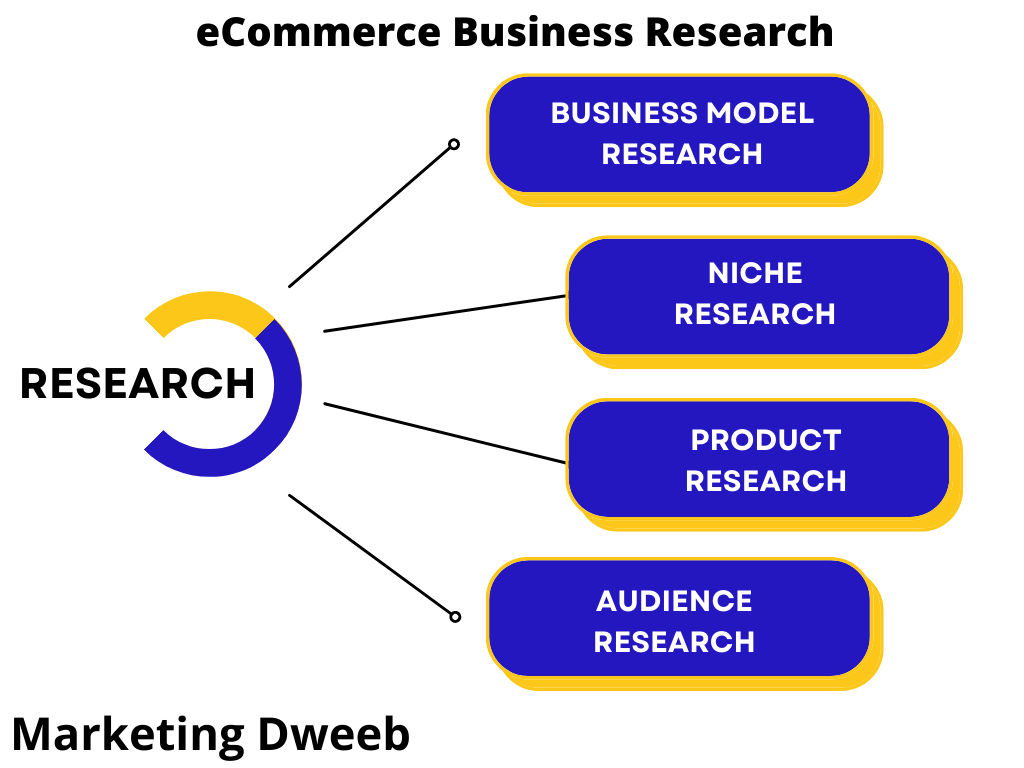 One of the most frustrating things about having an eCommerce business is not being able to know or understand your niche. In fact, this is one of the most prominent reasons why many eCommerce businesses fail. As of 2019, studies found that 90 percent of eCommerce companies failed within the first 120 days – primarily because the companies were unable to find a proper market fit.
Right now, the eCommerce industry is heavily centralized. Amazon, Walmart, eBay, and other giants hold massive amounts of a market share already. Unless you have an oversized budget, there's a slim chance that you'll grow to be one of these eCommerce giants. So, most companies decide to become more niche-focused.
In this case, selecting the right niche is as important a step as any other. One of the benefits of being in a niche is that you get to find associating niches as well. If your eCommerce business sells sneakers, you could easily partner with another that sells sportswear to promote each other and grow your customer base.
The important thing to remember in this form of research is to recognize the space in which you work. Look for some of the successful eCommerce stores there, and understand how they did it.
While choosing a niche, there are some things you should note:
The more specific you are, the higher your chances of building a successful eCommerce store, but your niche must not be too narrow.
It's fine to focus on multiple niches. No one ever said you had to be rigid
Select a competitive space. If you notice that an eCommerce niche doesn't have so much competition, then it might indicate that there's not much of a market for it
At the same time, don't pick an overcrowded niche – or one that is heavily dominated by one company.
Product & Target Market Research
Now that you've built the perfect business model and can identify the niche in which you'll operate, the next step will be to choose products.
Usually, there's always a rush to do this – after all, you know your niche and can already start building the business. However, try to pump the brakes.
Instead, focus on building the right customer persona. If you don't know who you're selling to, it will be pretty difficult to market to them and make sales. To build the perfect customer persona, ask questions such as
Who am I? (or "who are we?" as the case may be)
What does the online store represent?
Who is our ideal customer?
What do our customers need or want?
If I were a customer, what would make me want to buy from an online business?
All of these questions will help you to build the right brand image and position you in a good place to sell to them.
Fortunately, you can easily find a target audience through online advertising or social media marketing. They help with optimal targeting, allowing you to filter searches based on specific demographics and other user metrics. You can use them to get an estimate of the new customers you want to sell to, where they live, their median income, how they work, and much more.
Once you've identified the ideal customer you have to cater to, feel free to begin looking at product ideas. If you have a limited budget, you could start with just one product – it helps you to invest less, and you can use that singular product to test the market and measure your customer's appetite for other related products.
You also need to decide if you will be selling products manufactured by you or your brand store, other products sourced from vendors, or add extra value to another brand's product and get it licensed as yours.
However, before you invest in a product to sell online, be sure to evaluate it carefully. Integrate it with your eCommerce business model and get a feeling of your process by yourself. This way, you can identify possible bottlenecks and address them. In the event that these bottlenecks can't be treated, you will know how to work around them and handle customers in a way that you keep them.
As you examine the products, you should also look into their viability. Will you or your suppliers be able to meet up with manufacturing? Is the product's price fair for everyone? Etc.
Business Incorporation
Now that you know how your new business will work, it's time to introduce it to the world!
The first thing you need here is a brand. You want something that resonates with yourself and also attracts the ideal customer for you – remember when we said you need to find the customer persona? This is why!
There's no point using overly feminine colors if you're selling to men. At the same time, you shouldn't use a brand that caters to young boys if your products will sell primarily to corporate businessmen.
So let's back up a bit. You'll need to create a brand, but you also need to handle some basic steps. These include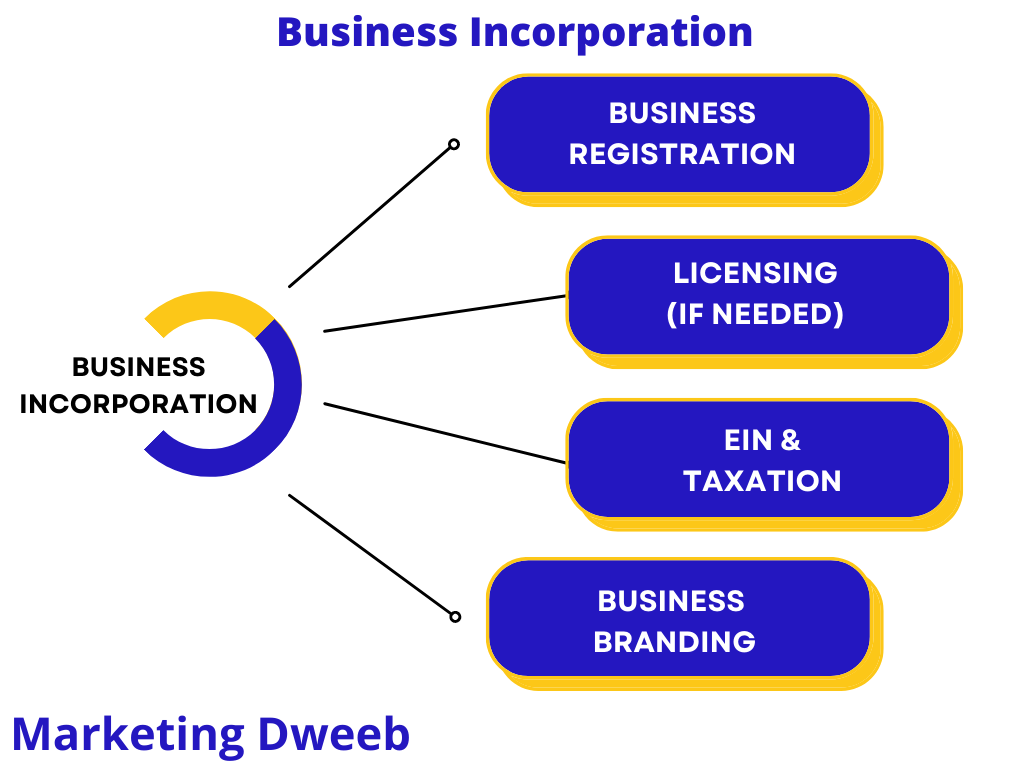 Business Name Registration
Select a business name for your eCommerce business and register it. Remember that as a small business owner, your company is still a legitimate business. Incorporating it offers several benefits and legal protections, so get that done.
You don't need to choose the same name for your online store and business. However, we would recommend that you find some relation between both. Consistency is always a plus, and remember to select a store name that fits your niche market.
Depending on where your business will be incorporated, and your online store product ideas, you might need a license to operate. There is a lot to keep in mind in this section, so you might need to do more independent research.
We recommend looking at resources from the Small Business Association (SBA)
As a new business that has been registered, you will need to work out taxation. You will also need to get an Employer Identification Number (EIN), which will enable you to open a bank account in your business's name and process tax payments.
Your EIN does pretty much the same thing as the Social Security Number for those in the United States. Even if you don't plan to have employees, you need this to file important paperwork.
If there's one thing we've said in this post, it's that the eCommerce industry is very competitive. As you work out how to do eCommerce, remember that you can't do it alone. You might need vendors who can offer the best quality and prices for the products you require, a shipping company to process and handle your products and ensure they get delivered to the customers safely.
Now, we get to the branding! An important step in this area is getting a good logo design that can easily connect to your target audience.
Remember to not choose a logo that another brand uses. Originality is quite important, so keep that in mind. If you're not so adept at designing, like some small business owners, you could always outsource this to a professional on freelance platforms.
Build Your Visual Persona
In this step, you consider your brand's outlook. Examine the brand's colors, the imagery, and the fonts on your materials.
If you have a sizable budget, you could easily hire a marketing company to help build your visual persona. If not, you could do it on your own. Remember the importance of consistency and originality.
Build an eCommerce Website for Your Online Store
At this stage, you've become an eCommerce business owner. You're ready to get things started with your online store and build the right platform that can easily help convert your website visitors and generate online sales.
Developing an online store takes a lot of trial and error. So, we recommend that you take your time and not rush.  Also, you need to decide the best eCommerce solution to adopt for your business.
First things first, you have to register your domain name and any relevant URLs. You will need all of the branding and design information that you've built to avoid any confusion here.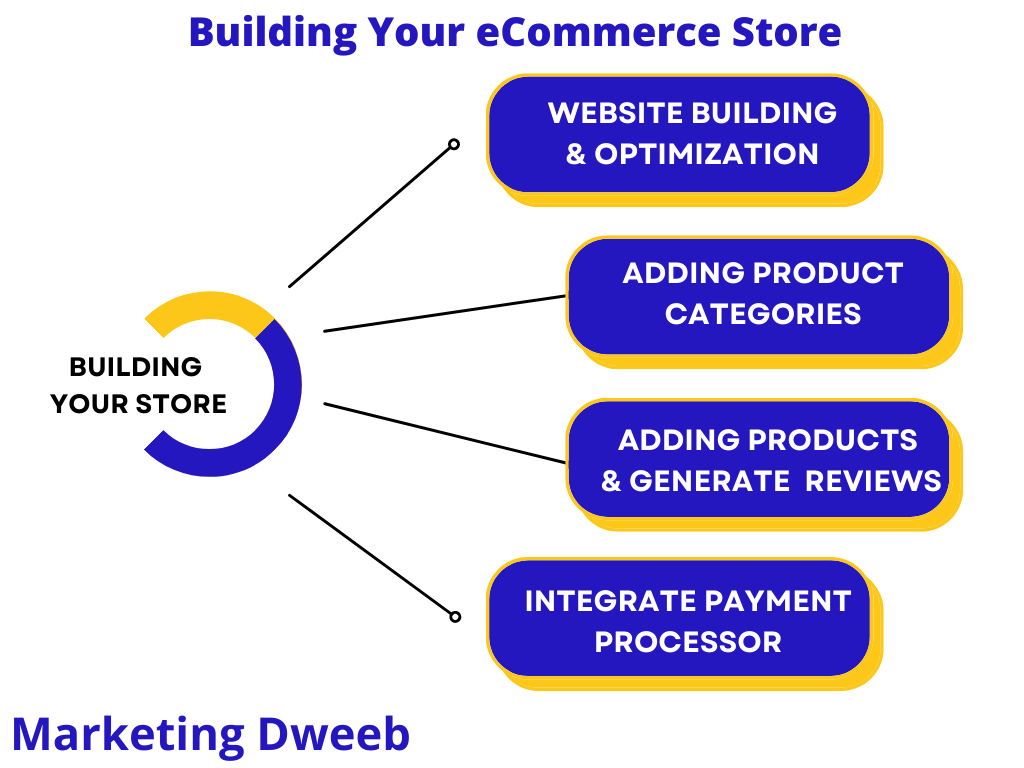 When you're done with the domain name registration, you can begin building your eCommerce website. If you have the right technical skills, you can develop your site from scratch. But, if you don't, then you would be better served using eCommerce platforms like Shopify, BigCommerce, Wix, etc. These eCommerce solution offer all the tools you need to build your online store, and you can easily incorporate them without having any coding skills.
Regardless of what you do, there are several critical factors or design components that must be considered when building your online store. These include:
This is perhaps the most important feature of your eCommerce site. Mobile-friendliness is key for you to sell online because most people these days shop with their phones.
Data from Statista shows that 93 percent of millennials shop on their phones. At the same time, eCommerce business giants like Amazon and Walmart focus more on mobile-friendliness. So, whatever you do with your store design, ensure that your eCommerce store is mobile-friendly for it's important for a successful business.
Everyone loves being identified by their names. The best eCommerce website should be able to personalize their customer details, especially in email marketing. It makes your customers feel special, so ensure that customers can enter their full names whenever they're about to register. Data from OptInMonser even revealed that eCommerce businesses lost over $750 billion due to poor personalization in 2020.
The personalization element of Emails is incredibly vital, so get your customers' names and use them well.
If you're decided to focus on a specific niche, this is very important. Your customers want to know the bestsellers, and they want to see the best of what you offer.
To save time, have a "bestsellers" page on your homepage for them to see and understand what you're about. Instead of wasting time on non-essentials, this helps your customers to choose the right products, and generate more sales.
This entails bundling your products up into categories. If you run a sports store, you can group your products into – trainers, sportswear, exercise materials, etc.
This is another essential feature for your online business. It helps your customers to save time. Many of them already know what they want, so why not make things easier for them, and also improve the conversion rate of your eCommerce store.
This also helps optimize your online business by allowing new customers to navigate your online store easily and providing a good user experience which is one of the greatest marketing strategies to keep repeat customers.
You can't make sales if the customers can't see what they're buying. It's bad enough that they won't be able to test your products before they buy them, but not having images will be a death knell for your business.
Be sure to have as many high-quality images of your products as possible. Capture different angles, sizes, colors, and much more. Be sure to give your customers enough variety when they are choosing.
Different product images and GIFs to demonstrate some features of your product is one of the best marketing tactics for online selling.
At the same time be sure that your product images have a zoom feature and capture the essential product details your customer needs to know. No one purchases a product without looking at it well, so be sure that your images can easily zoom.
Contact Details & Feedback
One of the best practices when running an eCommerce business is to have your contact information on your online store. It helps to build your credibility, and your customers will be at peace when they know they can easily reach you anytime. If something goes wrong, your customers will be able to let you know and you'll be able to address it, get feedback and use it to implement better product ideas for your online business.
You should also have a feedback option on your site. This enables your customers to speak with you if they have questions. Even if you can't chat with them, having a feedback option should be sufficient.
We live in an economy where many people love to give ratings and share feedback. So, be sure to not skip on this when you build your eCommerce business.
One of the features of a successful eCommerce business is the ability to create a community feels where everyone can cooperate. Customers buy your products and can recommend them to others. Through positive word of mouth, you can improve your sales significantly.
Every great online store takes its customer feedback seriously, and you should do so too. The customer review and rating system are what is needed to build more trust for prospective customers, generate more sales, and get better business ideas to include in your eCommerce business plan for future implementation.
It's understandable if you feel shy about putting reviews because you don't want any negative comments. However, if you're not confident about what you're selling, how do you expect your customers to buy. Even if you get negative feedback, you can use it to improve your services and products. So, have a review and rating option.
Payment is one of the most critical parts of your business. You're running an eCommerce business and selling to people in different parts of the world – or, at the very least, different parts of your country.
All of these people have different payment needs, so you will need to incorporate more than one payment option. In fact, the rule of thumb is to have as many payment options as possible. From credit cards to payment processors (like PayPal, Stripe, Square) and e-wallets, have them all. If you can incorporate crypto payments, do so as well.
Choosing the right payment processor is also an important factor in running a profitable online store, for some payment processors might not be ideal for you due to their percentage fees, the price of your products, as well as their return and cancellation policy.
These days, a lot of eCommerce websites have begun to focus on offering sharing options to customers. With a few links, you can let your customers share the products they buy. It works well because most people are on social media these days. When your users share what they're buying, it's easier for you to convert their social media contacts into customers and generate more sales for your online business.
There are several other features that your website will need, but these are perhaps the most important. At the end of the day, the focus is to provide a platform that your customers can easily use – as well as one that helps you to convert and retain customers.
Driving Traffic To Your Store
Without the right traffic, your online store will be as good as an empty movie theater, and you will find it difficult to sell online and run a profitable eCommerce business.
Now that you've built the perfect eCommerce business and you're ready to start selling. What's next as you focus on how to do eCommerce?
Well, marketing. It's time to get your online store in the faces of your potential customers, and you can't do that without effective marketing.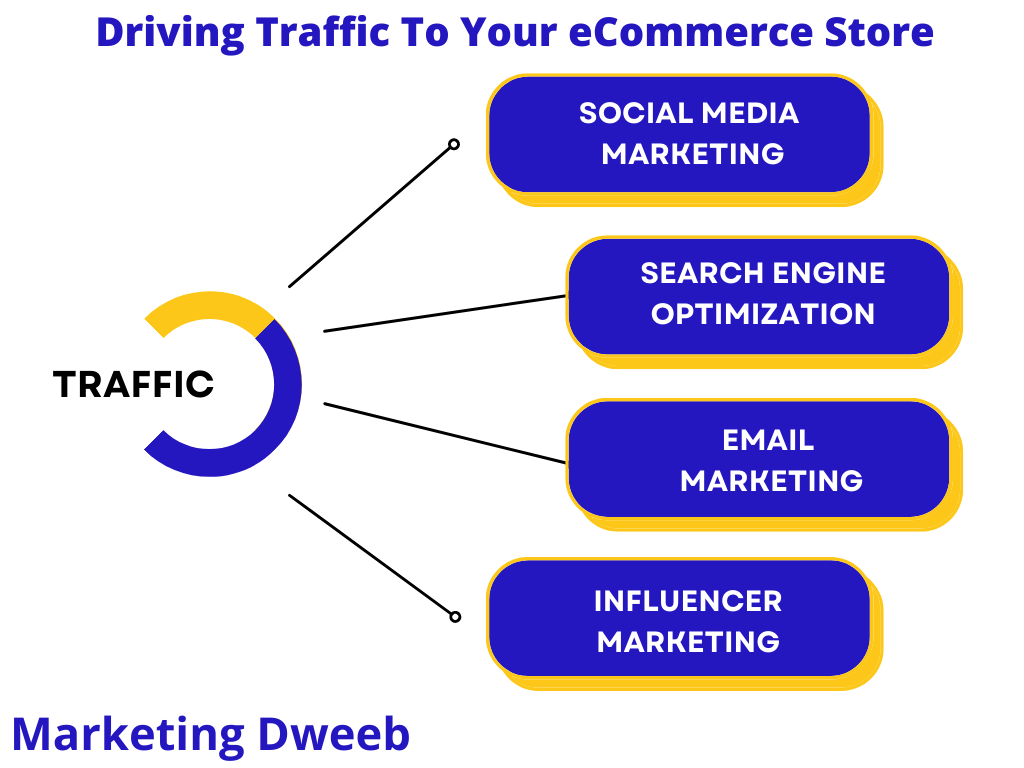 The first step here will be to optimize for search engines. The days when people would simply stuff their websites with keywords are over. Now, you have to use the right Search Engine Optimization (SEO) features that will help you to rank well. You need the right keywords for sure, but you also need to work out a proper technical SEO service. Is your eCommerce store optimized to improve the user experience? If it's not, that is a good place to start optimizing for search engines.
You can learn to do SEO yourself, or outsource to freelance SEO 'experts' if you need to focus on more important things for your eCommerce business. Hiring an SEO 'expert' could cost between a few hundred dollars to a couple of thousand dollars depending on the level of work needed to be done to get your online store ranking in search engines and start benefitting from their organic traffic to sell online.
Different Marketing Types
With a fully SEO-ready website, you should also consider other methods of digital marketing. Some of the options available here include:
We already covered this earlier. You want to create avenues for people who have bought from you to share your products online.
A lot of people use social media, and many people tend to listen to recommendations and reviews before making purchase decisions. So, provide sharing options and reviews on your website and add links for customers to share their purchases if they want to!
You can offer your customers a discount on their next order or free shipping in return for a review of the product they bought from your eCommerce store.
Email marketing is one of the most important forms of digital marketing and communication for brands. According to data, 61 percent of customers prefer to be contacted by brands via their Emails. This marketing form has also been shown to provide up to $44 in returns for every $1 spent and help both new online businesses and existing ones boost sales.
Email marketing is a method that needs to be implemented by online business owners ad soon as their business is launched.
You can send Emails to customers when they sign up for your store. You can also send subsequent Emails – such as when they make their first purchase, when they hit specific milestones, to inform them of promos or your new product idea and how it will help them, and many more.
However, remember to not pester your customers. Only send emails when they're absolutely necessary, or you risk people unsubscribing from your service en masse.
One of the downsides of email marketing is that you may need to hire a good writer for your emails, or use some great email swipes if you are not that good at writing.
It's almost impossible for you to drive traffic and sales using any platform like social media. Online stores with social media pages have recorded up to 32 percent more sales than those without any, according to BigCommerce data. When you consider that 74 percent of customers also consult social media platforms before making purchasing decisions, you'll find that having a presence on social media channels and being able to control your brand awareness is more than critical.
Don't just have pages on Twitter, Facebook, Instagram, and co. Be sure to engage with people and build a brand reputation. Remember to target members of your audience and work as much as possible to get them involved with what you do.
Content marketing is another critical part of your entire marketing strategy. Since you know your niche, you can find platforms like blogs and social media pages that attract members of your audience. Let them promote your products, and you should be able to improve sales.
Data shows that 61 percent of customers in the United States have made purchases due to recommendations from blogs and other authority sites. So, find authority platforms in your niche and get your products out there.
Ready To Begin?
The eCommerce business is understandably one of the most profitable business channels in the world right now. Everyone wants something, and your ability to meet their needs will definitely help you to make money.
It's relatively easy to start and own eCommerce business but takes a lot more to grow the eCommerce business into a successful eCommerce store that gives users a great experience that makes customers evangelize for the online business and in turn boost sales.
A lot of small eCommerce business owners tend to focus on listing 100s of products on their eCommerce store, but an eCommerce business owner with a growth mindset should focus more on selling products that actually solve problems or fulfill their customer's desires.
However, with the competition being so fierce, being able to distinguish yourself is one of the best solutions for growing a profitable eCommerce business. You want to stand out from the crowd and develop real relationships with your target audience. At the same time, remember that your e-commerce business should focus on customer satisfaction and engagement. Doing this will greatly improve your chances of success.
As you begin your journey into the eCommerce space, keep the following in mind:
Find the right product trends and focus on those
Identify your ideal customer and build your brand to target them
Above all things, focus on excellent service delivery
Work with reputable and reliable vendors for your business
Optimize your e-commerce site for search engine and social media
Ensure that your store is mobile-optimized
Marketing and word of mouth are important to your business
Success with all of this should put you in the right position to make sales and grow your e-commerce business. Happy selling!
General FAQ About How to Start an Ecommerce Business
Is eCommerce profitable?
Yes, the eCommerce business is very profitable if done the right way.
What are the 4 types of eCommerce businesses?
The 4 types of eCommerce business are:
B2B – Business to Business
B2C – Business to Consumer
C2B – Consumer to Business
C2C – Consumer to Consumer
What kind of online store is most profitable?
A whole lot of online stores run a profitable eCommerce business. The key to replicating this success is finding what your customers need or want and offering a product to fill the void.
Is eCommerce a good career?
eCommerce business is a very good career. You can choose to run and own eCommerce business yourself, or work with other great eCommerce giants in the industry.
Why do eCommerce businesses fail?
Most eCommerce business fail because of some important factors which may include one or more of the following;
Lack of genuine products to fulfill customers, wants, or desires.
Poor marketing skills
Bad customer support system
Poorly designed and not-user-friendly eCommerce store.
What makes a good eCommerce website?
The following are some of the features of a good eCommerce business website:
Simple and user-friendly website interface
Mobile optimized eCommerce website
It must be built on the ideal eCommerce platform for the eCommerce business
High-quality product images
Easy-to-read product description
User-generated reviews
Good payment processors for the eCommerce store
Easy to understand return and refund policy
Great customer support
What are the disadvantages of an eCommerce Business?
The eCommerce business is a highly competitive industry
Some customers have trust issues because they cant try before they buy
Customers can be impatient with receiving their items
Customers may have security concerns with giving out their details to an unknown eCommerce store
Is eCommerce the future?
The eCommerce business industry has been experiencing rapid growth, and it's safe to say eCommerce is the future. It is estimated that 95% of purchases will be made online by 2040.